Presentations by Harrmann Consulting
"A Multi-Generation Triplex Passive House in the Canadian Rocky Mountains"
19th International Passive House Conference | April 2015 | Leipzig, Germany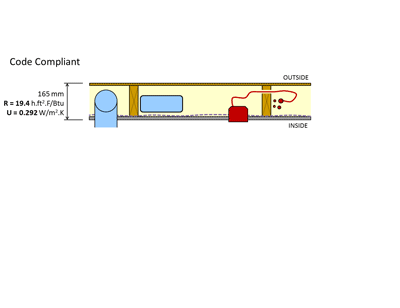 "The New PHPP Version 9: Project Specific Cause & Effect"
Different versions presented at:
NAPHN15 Conference | October 2015 | Vancouver, BC
CanPHI-West CEPH training courses | 2015, 2016
PHnw Conference | March 2016 | Portland, OR
NAPHN16 Conference | June 2016 | New York, NY
Selected slides below – see here to access the full presentation.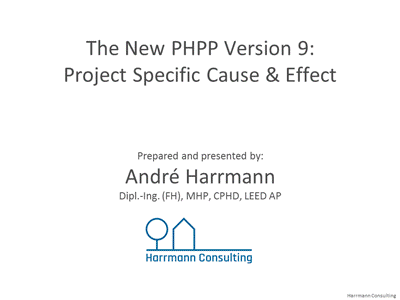 Other Resources for Passivhaus
Have a website you'd like to see listed? Let me know.
Organizations and Groups
International
Passivhaus Institut (PHI): The (original) Passive House Institute in Darmstadt, Germany
The international Passive House Association (iPHA)
North American Passive House Network (NAPHN)
Canada
Canadian Passive House Institute (CanPHI)
Canadian Passive House Institute West (CanPHI-West)
Canadian Passivhaus Group on LinkedIn
Passive Buildings Canada (PBC)
Ontario Passive House (OntarioPH)
Maison Passive Québec / Passive House Québec
US
Passive House Northwest (PHnw)
Passive House Western Pennsylvania (PHWPA)
Passive House California (PHCA)
Europe
Passive House Association of Ireland
People (in North America)
Certifiers
Consultants, Designers etc.
PassivhausPlaner: International list of Certified Passive House Designers & Consultants
iPHA Members: Searchable for Certified Passive House Designers & Consultants
CanPHI: Certified Passive House Designers & Consultants
CanPHI-West Certified Designers Directory: Certified Passive House Consultants & Designers in Canada
CanPHI-West Membership Directory: Canadian list of Certified Passive House Designers, architects, contractors, as well as other CanPHI trained PH enthusiasts
Projects
According to iPHA, 2106:
"Within the last several years, Passive House has gained rapidly in popularity, with over 50,000 residential and non-residential units in existence worldwide, and over 5,500 certified according to strict Passive House Institute certification criteria. These numbers are on the rise."
Passive House Project Database (PHI): Selected Passive House projects worldwide
Map of Certified Passive House Buildings (iPHA, PHI)
International Selection: PH designs from around the globe published in Construct Ireland, 2011 (PDF, as published in Construct Ireland, Iss 8, Vol 5, page 22-23)
"… there is a common misconception that building to the passive house standard involves sacrificing design freedom for the sake of thermal performance."
Passive House Architecture Award Exhibition: With further links to winning entries and The Passive House Architecture Award book
"Good architecture is the embodiment of function, well-being and design."
Technical Information
Passive House Compendium: All PH formulas and related information condensed on a few pages — works great as a Cheat Sheet for the Passive House Exam
Passipedia: A wealth of Passive House knowledge with links to other Passive House resources (certain articles are only accessible for iPHA / Affiliate members)
How to build a Passivhaus: The UK Passivhaus Trust's online knowledge base
Publications
For reviews of books published in English: The Blog of Elrond Burrell – Passivhaus Books
Net Zero Energy Buildings, Passive House + Renewables: This 2015 eBook by NAPHN demonstrates that the Passive House pathway is the best way to reach Net Zero.
Passive House pamphlet: The PH basics by iPHA (PDF 2p)
Active for more comfort – The Passive House: In-depth brochure by iPHA (PDF 76p 11.6MB)
Information for property developers, contractors and clients
Free guides from BRE: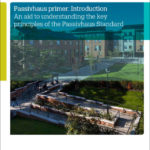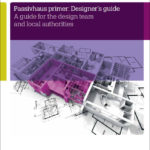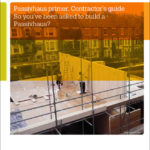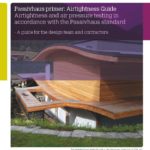 BRE Passivhaus Primer – Introduction (PDF 8p)
BRE Passivhaus Primer – Designer's Guide (PDF 12p)
BRE Passivhaus Primer – Contractor's Guide (PDF 12p)
BRE Passivhaus Primer – Airtightness Guide (PDF 24p)
Free guides from UK Passivhaus Trust: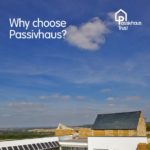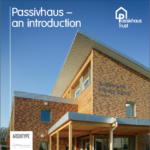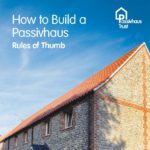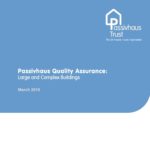 Technical Guidance – Why choose Passivhaus? (24 p)
Technical Guidance – Passivhaus: an Introduction (12 p)
Technical Guidance – How to Build a Passivhaus: Rules of Thumb (52 p)
Technical Guidance – Passivhaus Quality Assurance: Large & Complex Buildings (17p)
eBooks by NYPH: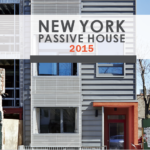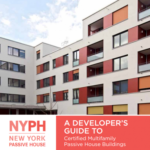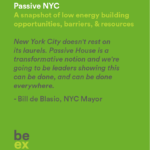 New York Passive House 2015 (48 p)
The Developer's Guide (13 p)
Passive NYC – A snapshot of low energy building opportunities, barriers, & resources (32 p)
Passive Design Toolkit – For Homes: By the City of Vancouver (PDF 58p 4.72MB)
Passive Design Toolkit – For Larger Buildings: By the City of Vancouver (PDF 114p 12.58MB)
Non Domestic Passive House Design Guidelines: Sustainable Energy Authority of Ireland (PDF 97p 7MB)
Guidelines including a very broad range of case study Passive House projects including not just offices and schools, but also a large Irish supermarket, a church, sports hall, factory and veterinary clinic.
Details for Passive Houses – A Catalogue of Ecologically Rated Construction: By IBO, the Austrian Institute for Healthy and Ecological Building
CEPHEUS – Living Comfort without Heating: This book is the concluding document of the CEPHEUS Austria 1998 – 2001 Projects (Cost Efficient Passive Houses as European Standards). The book's chapters (English and German) and the detailed project reports (German only, 50-70 pages for each of the 9 Austrian projects) are available for download.
Passive House CD: Passive House in warm climates
Solar Versus Superinsulation – A 30-Year-Old Debate: A dispute from the late '70s and early '80s still sheds light on energy-efficient design: Article by Martin Holladay on GreenBuildingAdvisor.com
Also by Martin Holladay on a similar topic: The History of Superinsulated Houses in North America
'Zero-Energy' Construction Crosses the Ocean: Article in the New York Times, 1 December 2011
"When you wake up after sleeping in a passive house … you never have that sort of 'ugh' feeling… you wake up with the best sleep ever, because it's incredibly oxygenated air."
High Performance Homes – Why isn't Canada spearheading the movement to build more sustainable homes?: Article in Canadian Geographic magazine, June 2012
"Passive House is the most economical way to build today if the operational costs over many years are taken into the equation."
Pro/Con: Does Passivhaus Make Sense Over Here? Three North American experts weigh in on applying a German energy efficiency standard across North America's broad climate zones.
The Passive House Difference – Comparing apples to oranges…: About the differences in energy measurements between Passive House and other standards, by iPHA.
be.passive: Belgium PH quarterly magazine with very good project pictures & details, mostly in French
Blogs / Podcasts
Passivhaus in Plain English & More: Blog by Elrond Burrell, including great articles like these:
Zero-Carbon Buildings? It's the Wrong Target
10 Things I Hate About Passivhaus!
House Planning Help: Podcast by Ben Adam-Smith, including great topics like these:
What Do You Get for Passivhaus Certification?
The Saskatchewan Conservation House – with Harold Orr
Is Natural Ventilation Fit for Purpose?
Emu Building Science: Blog by Enrico Bonilauri, including great articles like these:
Thermal transmittance of glass: the Ug value
PHPP 9: a misunderstanding?
Passive Green: A collection of stories about building progressively green on the Canadian West Coast.
Forums
iPHA Forum: A dynamic platform for exchange (only accessible for iPHA / Affiliate members)
PHnw Google Group: Focused on the Pacific Northwest
The Association for Environment Conscious Building (AECB) Forum: UK based and not only about Passivhaus
Software Tools
Passive House Planning Package (PHPP): The key design software planning tool for Passive House
THERM: Freeware for calculating window frame and envelope performance (U-values)
WUFI: Software for calculating the coupled heat and moisture transfer in building components
Several useful tools for PH design: By David White
Building Physics | SI-Imperial: A handy Passive House unit converter for Apple devices